The Amazing Race Unfinished Business Episode 7 Recap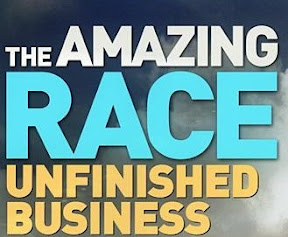 After a week off, our intrepid teams return for another week of racing. In an amazing way. Hey, it's not Wipeout, but it's still fun.
The Cowboys were the only team not to get on the 10:45 flight in India, putting them an hour behind all the other teams.
The roadblock involved finding holy men on an extremely crowded street. Jet and Cord arrived well back, as would be expected, but they still finished before Ron and Christina, as Ron may still be wandering the streets of India narrating his adventure to himself.
One of the detours involved cow poop. Much retching ensued.
The Globetrotters came in first place.
Kent and Vyxxyyynnn had a water taxi mishap that resulted in V ditching her taxi by jumping in the water. I could have sworn at one point, Kent called Vyxxyyynnn "sis" which ... uhhh ... Let's just move on, shall we? (Or maybe it was "Vix.")
The Cowboys moved up to 5 after being behind much of the leg. Good for them.
Ron and Christina came in last and were eliminated.
Next week: Phillip is still ... Oh, sorry, wrong show. The teams eat in Austria and Ken and Vyxnnnn have another meltdown.