Snowed in Saturday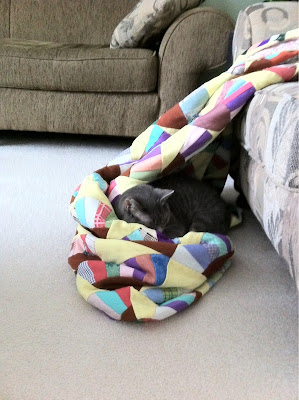 It's a cold and snowy Saturday in Edmonton, and I haven't posted anything here in a while, so here's an update:
• I have bronchitis. I sucks. I'm coughing a lot. Today is Day 13 of being sick - first a bad head cold and now the bronchitis. Yes, I've seen a doctor. I'm getting better but it's taking a while. The good news is I almost never get sick. The bad news is that because I almost never get sick, this is like Armageddon for my body.
• Normally I hate gigantic snowfalls like the one that is still coming down because I hate shoveling snow. But we bought a snowblower before Christmas. It took us 30 minutes to plow ourselves out today. Our neighbor across the street was shoveling for 2 hours. Yay us!
• I watched the first disc of the Chris Jericho DVD the other night. It's awesome.
• Yes, that's a cat curled up in a blanket halfway on the floor. She's weird like that.