The Great Niagara Falls Vacation Blog
Day 1, Thursday, July 21
It was an early morning at the Winnipeg James Alexander Keith Charles Bedford Richardson International Airport And Construction Zone, where every 10 minutes the CBC Airport News helpfully informed us that it was going to 38 degrees in Toronto, which is, of course, where we were landing. Unless the Toronto airport had burst into flames by the time we landed. (At the same time, it was going to 20 in Edmonton, so we still had the better end of the deal.)
The day got off to a good start as our plane departed on time. See last year's Hawaii blogs for more on that.
Our main concern in Toronto was getting out of it. And that's not a diss to TO, but we were there to land, rent a car and drive to Niagara - assuming that even armed with my iPhone's GPS
and
a map (look it up, kids) we could make our way to the correct highway.
Which we did. The GPS was perfect. And it was 37 degrees during the drive. Yay for in-car AC.
So, of course....
And after gazing at the falls for a while, we went exploring the streets.
There's a giant Ferris wheel ...
And a lot of touristy stuff.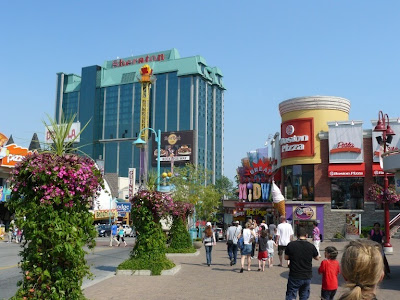 Sadly, the WWE store closed down this spring.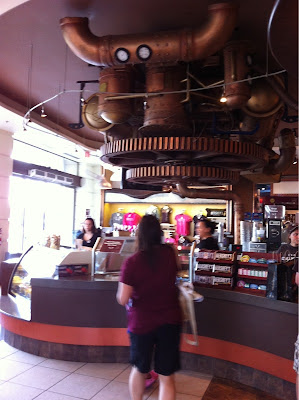 The Hershey Store was a favorite of the entire family and we indulged in a cookies and cream cupcake and a double chocolate peanut butter sandwich cookie.
The stores were not only fun to shop in, but were a nice getaway from the scorching temps.
After that, it was back to the hotel for the night.
Day 2 - Friday, July 22
We were going to do the Lion Safari today but we had an incident at our hotel and needed to pack and change rooms, which threw us off schedule.
So, instead, we walked across the border to the American side (50 cents per person through a turnstile, across a bridge and then through American immigration/customs.)
And what an incredibly pleasant surprise that was! The Niagara State park is gorgeous, with walking paths that take you to the American and Canadian falls. And the views are nothing short of spectacular!
American falls above. Canadian below.
In the afternoon, it was off to the exotic bird house, where we saw hundreds of feathered flying creatures. But the highlight was absolutely Nicole getting a chance to feed some birds.
We capped off the day by making a rare (for us) night excursion and seeing the city after dark so we could see the falls lit up and the fireworks.
The giant ferris wheel all lit up.
Michelle took some great fireworks pictures.
Day 3 - Saturday, July 23
This as African Lion Safari day. It was absolutely fantastic. Much of the park is set up like a real safari: you stay in your vehicle and the animals come to you.
We had a lioness walk right beside our car, a giraffe walk in front of us, and a zebra escort down a road. The kids were utterly thrilled by the whole experience and it really was a gigantic thrill.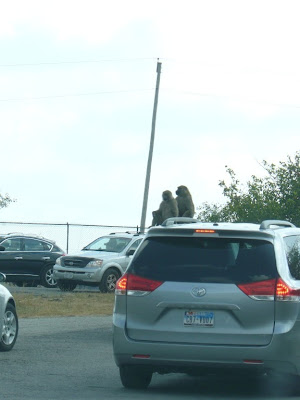 Yes, those baboons are sitting on a van.
The ostrich was having fun looking at the people looking at him.
We also got to watch the elephant swim. Twice a day the park's elephants get walked down to the lake where they get to play, splash, swim, cool off, goof off and do whatever elephants do when they get free time in deep water. It was really neat to see them in their more natural environment.
I can't say enough good things about this. If you're ever in Southern Ontario, make the trip to the African Lion Safari.
Day 4 - Sunday, July 24
We went to the Fallsview indoor water park today, and it was very nice. Very clean and very well run.
There were 8 slides - 4 that used tubes, 2 that used mats and 2 "body" slides. Char and I went on all of them and found that the mat and body slides had the shortest lines, so we generally stayed on those while we were there. The kids spent a lot of time in the wave pool. We lasted about four and a half hours, which is what we expected going in. No pictures as we wore our swim gear down and took nothing but our goggles and room key.
After that, Char and I went souvenir shopping and picked up more chocolate goodness at the Hershey store. We didn't buy this, but it was cute. And we need a picture here.
Day 5 - Monday, July 25
Today was "see the Falls up close" day. We did three tours: Cave of the Winds (which is a walk/climb right next to the American falls), the Maid of the Mist (boat to the base of the Canadian falls) and the Journey Behind the falls (a walking tour next to the Canadian falls).
This was all just amazing. The views of the falls up close were awe-inspiring. And we got wet, despite our many rain ponchos that were handed out prior to each tour.
That's us doing the Cave of the Winds tour with the American falls behind us.
Our kids goof off in the wettest section of Cave of the Winds. It was like standing in a gigantic outdoor shower.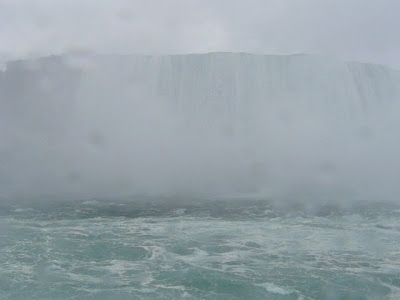 This is the Canadian falls from the deck of Maid of the Mist. The camera was pretty wet at this point, but it survived.
This is the observation deck of the Journey Behind the Falls tour. That's the corner of the Canadian horseshoe falls in the background.
This was all really, really fun.
Day 6 - Tuesday, July 26
We were off bright and early for Canada's Wonderland, which was about a 2 hour drive away. Fortunately, I had downloaded the free MapQuest GPS app for my iPhone a few days ago and it got us there without any problems through southern Ontario's sometime's confusing highway system.
Wonderland was fun. Smaller than Disneyland (duh!) but laid out in a similar way with mini-parks linked together. Wonderland has an overarching Peanuts/Snoopy/Charlie Brown theme and I was shocked to discover my kids (17 and 13) knew none of the characters. Generation gap.
The oddest event of the day was a woodchuck suddenly appearing on a walking path mooching food from people. He was utterly unafraid of humans.
We lasted 10 hours and did rides, saw shows and played games. The kids won some prizes, which they were very excited about.
The trip home was a lot longer due to construction closures of several lanes of highway that slowed traffic to a crawl. But we finally staggered in around 10:30 and fell into bed.
... And that's really about it. Wednesday was very quiet, mostly spent in our room packing, reading and vegetating after some really packed days. Our plane departed Thursday back to Winnipeg and now we're home.
We really enjoyed our first real trip out to this part of the country. Beautiful area, lots to see and do, and we barely scratched the surface.